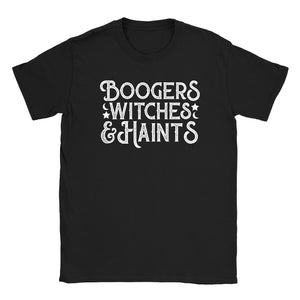 The Boogers, Witches, and Haints Tee
The Boogers, Witches, and Haints Tee
Boogers, witches, and haints.
Love, love, love my shirt. When I was a kid, we were told stories of the Bunkum Booger. He was a giant black cat that lived in the local woods that screamed like a woman in the dark. 🐈‍⬛🐈‍⬛
Love my shirt
The fit was true to size and it was extra soft. No complaints
First time buyer
The shirt is great!! Soft, well made.